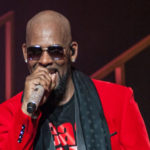 A federal judge sentenced R. Kelly to 30 years in prison on Wednesday. Kelly was convicted last September of racketeering and violating the Mann Act, a sex trafficking law, including having sex with underage girls.
Kelly was also convicted in a bribery scheme involving a public official to get a fake ID for the late singer Aaliyah, so the two could marry when she was 15 and he was 27. Kelly believed Aaliyah was pregnant at the time, prosecutors wrote in a sentencing memo. Kelly produced Aaliyah's debut album, titled "Age Ain't Nothing but a Number." She died in a plane crash in 2001 at 22 years old.
During Kelly's trial, nearly four dozen witnesses testified for the prosecution, alleging that he preyed upon children and women for his sexual gratification. The singer declined to testify at the six-week trial but could speak during Wednesday's sentencing hearing. His defense team is asking for less than 14 years in prison, citing Kelly's traumatic childhood.
Editorial credit: Jamie Lamor Thompson / Shutterstock.com