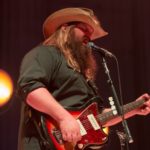 Nominations for the 2022 Grammy Awards were revealed on Tuesday by the Recording Academy via a Livestream from Los Angeles. Jimmie Allen, Chris Stapleton and Mickey Guyton are among country music's top nominees. Allen, who is up for Best New Artist, is country music's only nominee in the all-genre category.
Guyton earned 3 nominations, including for Best Country Album. She is also the first African-American artist nominated in that category since its inception. Stapleton also earned 3 nominations, in the Best Country Album, Song and Solo Performance categories.
Kacey Musgraves made headlines recently when members of the Recording Academy banned her 2021 album "Star-Crossed" from the Best Country Album category (because it was not 'country enough'), but the project's "Camera Roll" received nominations for Best Country Solo Performance and Best Country Song.
You can see the full list of nominees here. The 64th Annual Grammy Awards ceremony will be held on January 31, 2022, live on CBS.
Editorial credit: Sterling Munksgard / Shutterstock.com